PIECE: JASMINE FLOWER
SECTION 6.6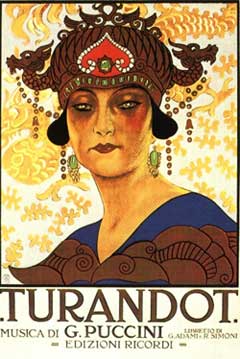 Fig. 6.8
Turandot
Poster
Jasmine Flower is a popular Chinese folk song, and is frequently played by erhu players. There are two versions of this folk song, one from the Jiangsu province, and the other from the Zhejiang province, and their melodies and lyrics are different. Although this arrangement of Jasmine Flower is based on the Zhejiang province version, it is interesting to note that the Italian opera composer Giacomo Puccini (1858-1924) used the Jiangsu version of Jasmine Flower in his opera Turandot (Puccini used it as a unifying motif throughout Turandot. The Jiangsu version was also used during the 2008 Beijing Olympics as the theme song for medal ceremonies). [57] [58]
TECHNIQUE TIPS: Notice how the melody of Jasmine Flower uses only 5 notes: G,A,B,D,E. This is an example of the melody being structured around a pentatonic scale. Use smooth, flowing bows to play this delicate and lyrical melody. A few embellishments have been added to the music (grace notes), and you may want to experiment with adding more ornaments in the spirit of "jia hua" (meaning "add flowers").
© Copyright 2020 RK Deverich. All rights reserved.
*Although this online bass class is provided free of charge, all rights are reserved and this content is protected by international copyright law. It is illegal to copy, post or publish this content in any form, and displaying any of this material on other websites, blogs or feeds is prohibited. Permission is given for individual users to print pages from this website for their personal, non-commercial use.