PIECE: ST. LOUIS BLUES
SECTION 6.17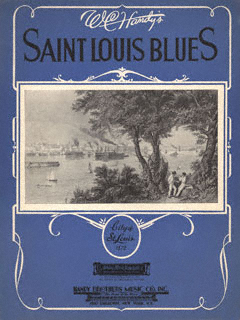 Fig. 6.18
St. Louis Blues
Handy's most successful composition was St. Louis Blues, composed in 1914. It is an enduring classic, and is still performed by jazz musicians today. According to the American Society of Composers, Authors and Publishers (ASCAP), it was the second most recorded song in the first half of the 20th century (the Christmas song "Silent Night" was first). [148]
One of the unique features of this piece, was Handy's use of the Habanera rhythm in the bass part (he later used this rhythm with other blues pieces).
Here's an example of the Habanera rhythm, the same Afro-Cuban rhythm used in Bizet's Carmen:

Habanera Rhythm
Handy used both the twelve-bar blues pattern and the 16-bar blues pattern in creating this piece. He divided the piece into three sections: two 12-bar blues sections with the same melody, a minor 16-bar blues section utilizing the habanera rhythm, and a concluding 12-bar blues section. As you play this piece, you may want to try adding a few slides (for example, you could add slides to the "blue" notes—slide in and out of them). You also may want to interpret the rhythm freely, and let the eighth notes "swing," such as interpreting the eighth notes with a triplet feel in the following "swing rhythm" manner:


Swing Rhythm
St. Louis Blues Lyrics (1st verse and chorus)
I hate to see de ev'nin' sun go down
Hate to see de ev'nin' sun go down
'Cause, my baby, he done lef dis town

Feelin' tomorrow lak Ah feel today
Feel tomorrow lak Ah feel today
I'll pack my trunk Make ma get away
St. Louis woman wid her diamon' rings
Pulls dat man roun' by her apron strings
'Twant for powder an' for store bought hair
De man I love would not gone nowhere
Got de St. Louis Blues
Jes as blues as Ah can be
Dat man got a heart lak a rook cast in the sea
Or else he wouldn't have gone so far from me
(spoken – Dog-gone-it!)
SUMMARY
Additional stringed instrument styles. This unit has provided only a brief selection of non-traditional styles of string playing. There are many additional alternative uses of stringed instruments in a variety of musical styles, and just a few of these are jazz, hip-hop and rock. These styles often experiment with new performance techniques, and often use amplified violins, violas, cellos and double basses. Alternative styles merit more in-depth attention, as do all of the styles presented in this style sampler, and future study courses will present a more comprehensive treatment of specific styles of string music.
© Copyright 2015 RK Deverich. All rights reserved.
*Although this online bass class is provided free of charge, all rights are reserved and this content is protected by international copyright law. It is illegal to copy, post or publish this content in any form, and displaying any of this material on other websites, blogs or feeds is prohibited. Permission is given for individual users to print pages from this website for their personal, non-commercial use.